Do you want to have your own chatbot within 5 minutes? Don't worry! BotStar will help you do this.
Designing a chatbot is simpler than ever with BotStar templates, it only takes a few minutes to customize our templates to ready to deploy on Messenger or Website. Believe us! Using ready-to-use templates is the easiest and fastest way to design a chatbot that fits your needs. The BotStar team and other contributors have built a lot of templates professionally for different usecases.
In this article, we will guide you through the whole installation process. Let's build your chatbot with us!
How to install a template

After successfully logging in to the BotStar app, you will see Create a New Bot to create your own chatbot. You can use these steps to install a template:

Step 1 Click Create a New Bot
Create a New Bot
Step 2 Choose a template you need
Choose a template
Step 3 You can select
Preview to preview the template before you decide to use it.
Preview
Step 4 Click on Clone button on and start setting up the bot. You can name your bot, select the primary language and bot timezone.
Set up bot
Besides, you can customize the bot behaviors, including:
First-Time Greeting Message: This message will be shown to first-time users
Read Receipt and Typing Indicator: Mimic human behaviour as if your bot is reading or typing a message.
Set up bot behaviors
Global Variables: Global variables are often used for text that are repeated often like your brand name, contact number or address etc. Global variables can be used at any place where you want to replace text with.
Set up Global Variables
Step 5 Click on Next button to continue, find a Facebook page or choose websites to publish your bot
Choose Facebook Page or Website
Step 6 Continue Next to review and read "Template License" carefully. Please note that template can only be used by you or one client for one end product. You cannot resell or redistribute this template in its original or modified state.
Then click Create Bot to start editing the chosen template
Create Bot
How to customize a template

Most templates are ready-to-use and you simply need to edit the content and change some items.

These following steps will show you how to edit a template:

Step 1 Go to the
Flow Editor, you will see the pre-designed conversation. You can modify block content and customize the block properties as your demand.
For example, you can edit the content and customize the block properties of the Text block.
Edit block content and customize the block properties
Note: You can see more details on using blocks and actions at Flow Editor
In particular, you have to customize Action Human Takeover and fill in your email so that users can contact with the admin when needed.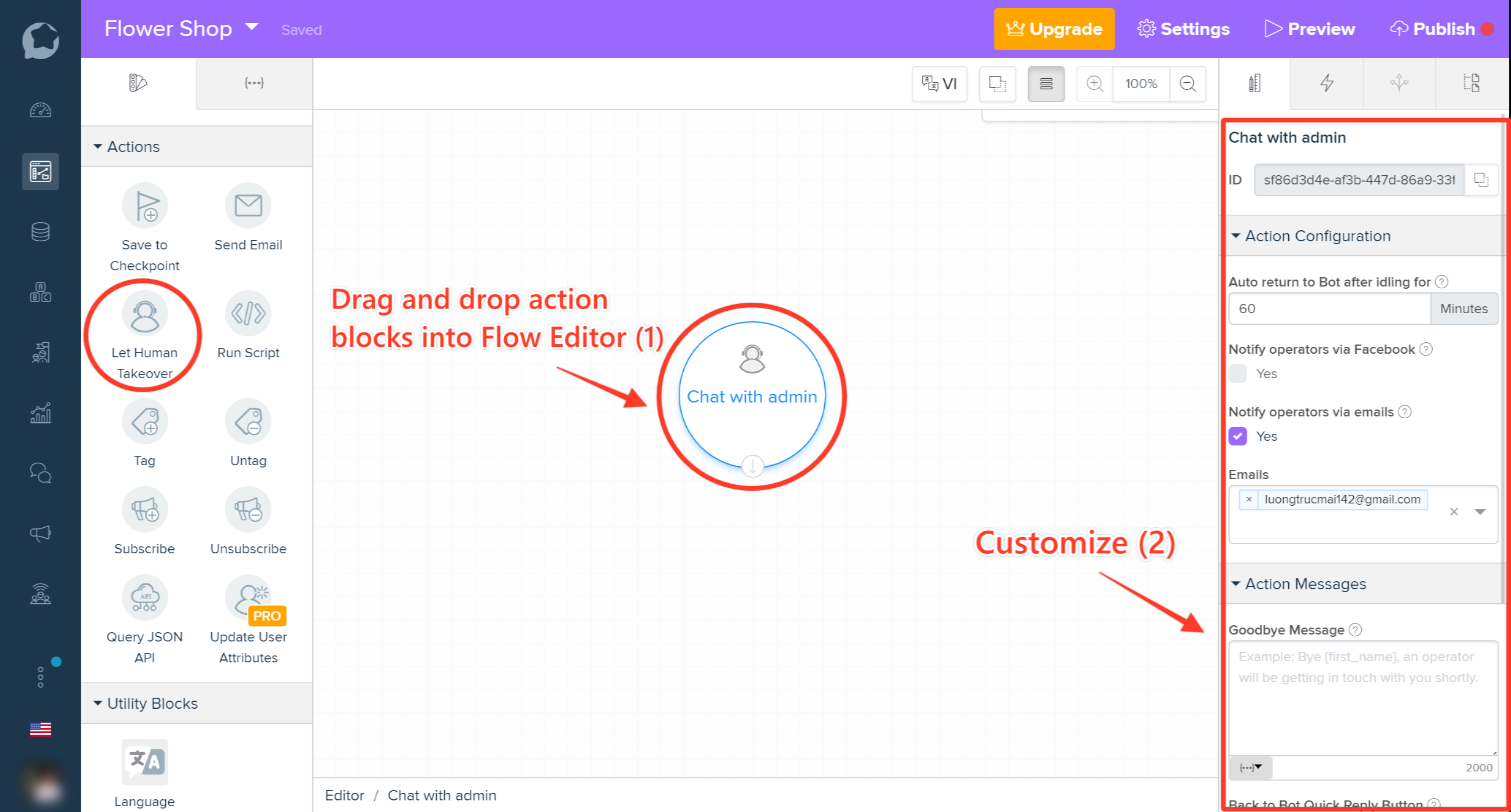 Customize Action Human Takeover
Step 2 Go to
CMS, update or add new CMS items
Update CMS
The bot creator can add more Form Fields of an Entity
Edit Form Fields of an Entity
Or edit in the CMS items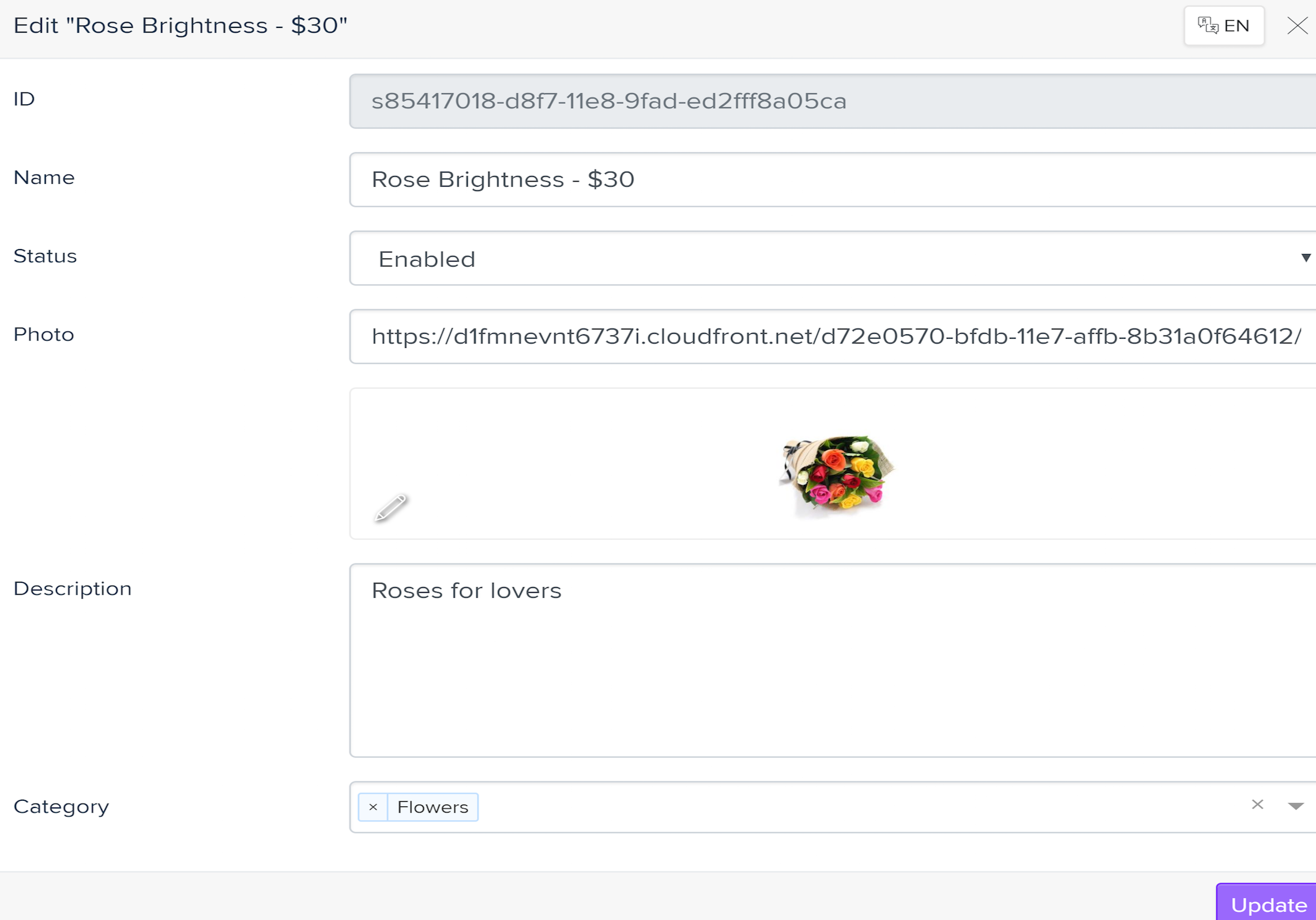 Edit CMS items
You can read more about how to create and use CMS at Using CMS
Step 3 After customizing a template, go to
Settings to set up General, Behaviors, Integrations, Collaborators, Data.
Specifically, in the Behaviors, you can set up Greeting for the bot, in addition to see details about how to use fallback block to automatically when bot can not respond and support chat users to avoid dead-end conversations at How to use Fallback Block and Avoid Deadend
In case you want to create a multilingual bot to interact with users from many countries, you can add another language by browsing to "Settings/General/Secondary Languages".
Set up bot language
There are toggles to switch between languages throughout our platform should you need to edit bot contents.
More details about Settings, please read our documentation Settings
Step 4 Press Preview button to preview the conversational flow
Preview a chatbot
Step 5 Click on
Publish button to deploy a bot on Facebook Messenger or Website
Publish a chatbot
For more details about publishing a chatbot, read at Publish a chatbot on Messenger or Publish a chatbot on Website
Note: You can train the bot by using Training to make the bot more intelligent. Please read the method of how to train your bot at Training
How to save and submit your own template

This feature is currently available for BotStar staff only. If you wish to be a part of BotStar ecosystem and marketplace, please send a request to info@botstar.com