Training Chatbot to Be Smarter
If Flow Editor is the backbone of your bot, Training is the flesh. Users will not always follow your designed flow. They might choose to disrupt it by asking a random question totally unrelated to the previous messages. A well trained chatbot will handle more edge cases.
So, Training is the feature that helps your bot to increase the ability to understand user's input even with typos or different wording.
The more set and phrases you add to your bot over the time, it will become smarter over the time and be able to teach itself to understand more. Thus, Training is suitable for things that are text-heavy such as F.A.Q, Diagnose or small talks.
Training Setup

To train your bot, firstly, you have to enable chatbot integration with Natural Language Processing (NLP) services such as Wit.ai and Dialogflow under Connect > Integrations.

Once your bot is connected with an NLP service, you can start training your bot at Build > Training.
Note: For more information about NLP services that we support, please read at Wit.ai or NLP - Dialogflow
Define a Training Set

Set is a group of dialogues that have a common content or purpose. We recommend you to create Set per topic/domain to increase accuracy and bot's learning speed. For example, Order Set or Job Opportunity Set are better than a generic set like FAQ.
Create a "New Set" in Training
Head up to the + New Set button, you will be asked to fill in the following information:
Name: Give a name for Training Set

Short Description: Describe shortly the set

Language: The language is used in the set. If your bot is multi-lingual, you should create many sets for the same group.

Minimum Confidence: The minimum ratio of confidence for analyzed results. There are three levels of miminimum confidence: Low, Medium, Strict.

Set Low for maintaining dialogue between bot and user in the case of training bot in small talks

Set Medium to Strict for specifc and advanced sets such as Event Details, Payment Instructions to increase bot's ability to answer accurately the anwsers.
Note: You can sort languages that you use to train your chatbot with the button All Languages.
Dialogue Setup

After you finish defining a new set, proceed to train your bot by selecting the button + New Dialogue on the right-hand side of Training screen. Proceed to fill in Phrase and Response for bot:

Phrase: Fill up as many phrases as possible under the part "User may say"

Set up phrase under the part "User may say" in Training

Response: Write manually the answers in the cell defined "Use a block" or "Write a response".
"Use a block": We recommend you to set up response by using a block for the bot to take user back to flow as soon as render to block. In the case of using more than one block, bot can respond randomly one of the answers.
"Write a response": In the case of training small talks, you should write manually response. It makes your bot more natural when the answer that bot respond to the user is random.
Tips for training a chatbot smarter
Tip 1 - Give the user the directional cues

We recommend you to design your chatbot which ask relevant questions from the user and provide suggestions that are simple tap to answer message buttons defined Quick Replies. If the user does not know what to say, the chatbot must come up with suggested tasks that it can perform for the user.

This helps in utilizing the chatbot's capabilities as well as exploring where the bot needs training.
Common Welcoming Message
Directional cues
Tip 2 - Personalise the user interaction

An effective chatbot should probably start with asking the user who he is or how he is feeling etc. Basically, it seems to be good to start the conversation and makes the user feel as he is chatting with a true person.

Taking the user's name frequently, greeting him, etc. are some practices, which make conversations more personalised.
Common Greeting Message
Personalise the user interaction
Tip 3 - Express your conversation with emotions

The emotion behind your conversation should be in accordance with the purpose of the bot. If the user has accomplished a task, give a cheerful response. If the user could not accomplish a task, feel the inconvenience and convey it in the correct manner.

In almost cases, emotions should be based on context of the situation.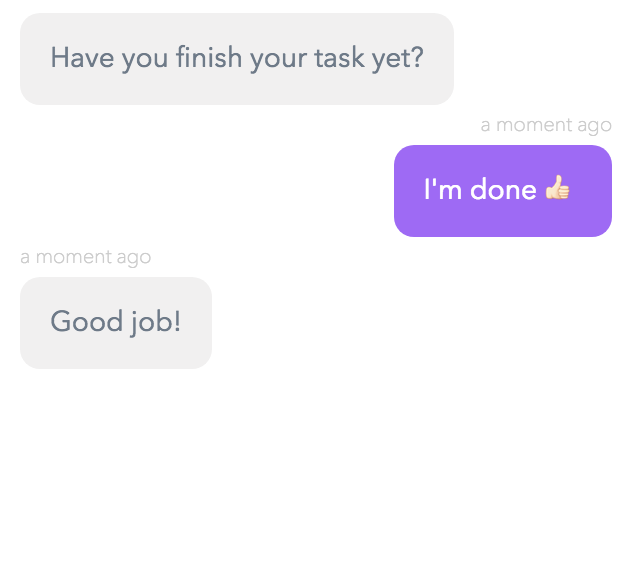 Common Response
Cheerful response with emotion