Rules for Sending Broadcasts
Chatbot is becoming a powerful marketing tool, which many businesses are using to reach 1.3 billion monthly active users on Facebook Messenger. With BotStar Broadcast, you can easily send message to thousands of subscribers at once to notify them of content updates, news about your business as well as engage your customers and nurture their loyalty.
This article will help the chatbot operator understand the broadcast types, rules for sending broadcasts and how to set up a broadcast.
Broadcast Types

There are three different types of broadcasts you can send on Facebook Messenger, including: Subscription, Promotional and Follow-Up. Each type has its own rules and stipulations.

Why did Facebook create these rules?

Obviously, Facebook wants to make sure their users have a positive experience when using Messenger. And an important part of this is to avoid spamming users with advertising messages. So Facebook limits the number of promotional messages sent via Messenger. But the benefit of this rule is that you can send a promotional message to the right audience more effectively if they have become your subscriber.

Here's a quick overview of the three types of broadcasts:
Send Broadcasts: Subscription

Subscription: Subscription broadcast messages can't contain ads or promotional materials, but can be sent at anytime regardless of time passed since last user activity.

These following steps will guide you to know how to request subscription messages:
Go to Settings > Messenger Platform


Scroll down to Advanced Messaging Features and click on Request


Then a pop-up window Request Subscription Messaging appears, select the type of message


Give examples of messages your Page will send

Here are some useful tips: You have to make sure the content about specific cases as well as the given examples you send to Facebook for censorship are sample broadcasts, not the specific content you send to the chatbot subscribers. Moreover, be sure not to send promotional broadcasts.


Tick for confirmation and click Save Draft


Click on Submit for Review and wait the Messenger team for approval, this process can take 3-5 days

Send Broadcasts: Promotional

Promotional: Promotional broadcast messages can contain ads and promotional materials, but it can only be sent to subscribers who were active in the past 24 hours and interacted with your chatbot.

Here's a great example to guide you to set up a promotional broadcast: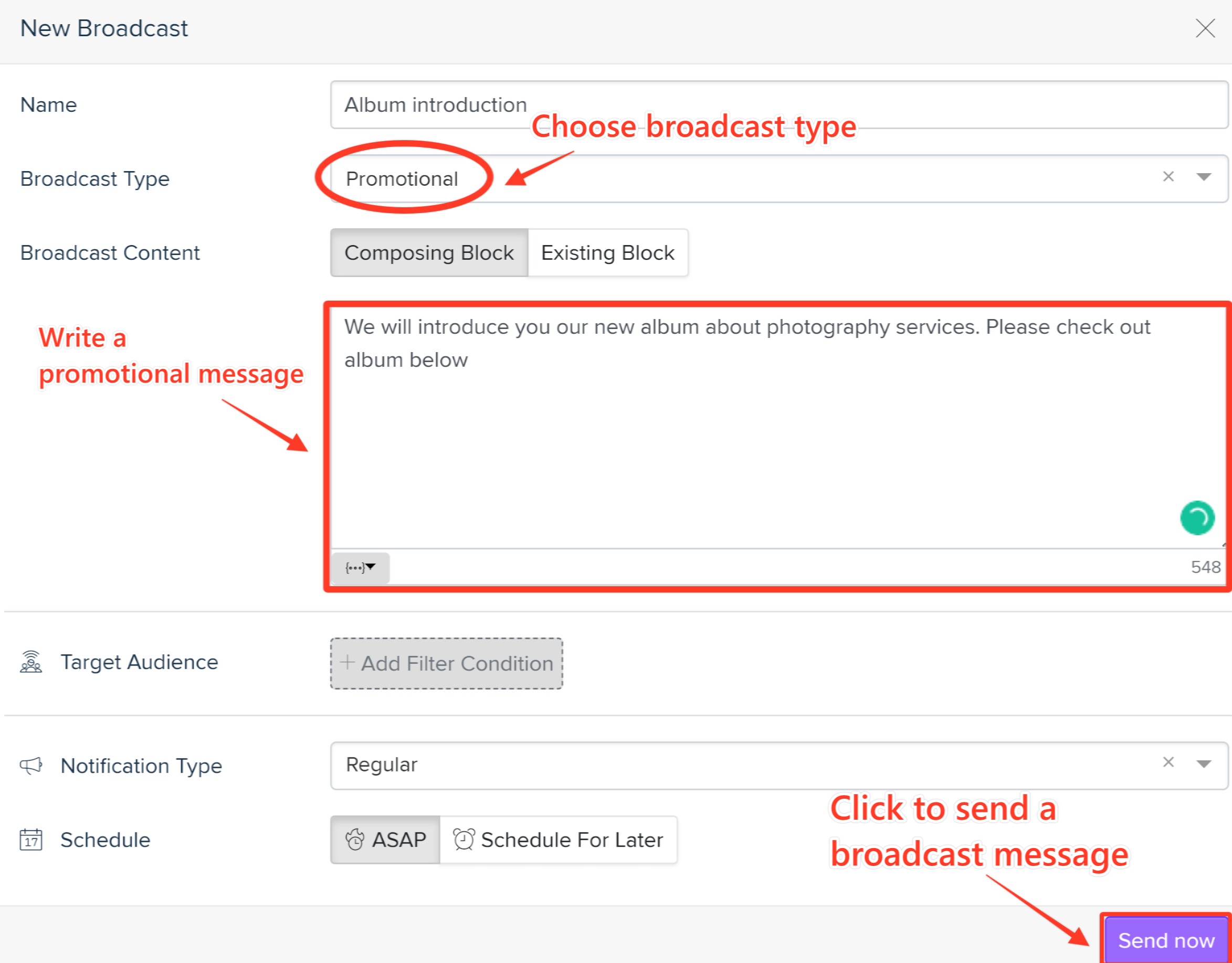 Promotional Broadcast
Here is the result after sending a promotional broadcast:
Send Broadcasts: Follow-Up

Follow-Up: After the end of 24 hours window you have an ability to send "1 follow-up message" to these recipients from chatbot. After that, you won't be able to send them ads or promotional messages until they interact with you again.

Here's another example of a wonderful follow-up broadcast:
Follow-Up Broadcast
Here is the result after sending a follow-up broadcast:
Note: For more details, please see How to send a broadcast.