Lesson 4: Collect leads, bookings, and orders via your chatbot
Estimated reading time: 20 minutes
After lesson 3, you've already learned to build a simple chatbot. Imagine that if you have a business such as a fashion shop, a hotel, a restaurant or e-commerce business, etc. You might need to save an order, a booking or any inquiries from customers for managing and keeping track.
In this lesson, you can use our Variables & Checkpoint feature to do that. Also, we will support you to categorize customers by using User Attributes and Tags, send Broadcasts to potential customers and then export those data into Google Sheet.
In this lesson, you will learn how to:
Create Flow Variables
In this lesson, you will learn how to use Variables to store data collected from your customers then confirm the order with them as flowchart below:
1. Enable Expect User Response in Properties panel of a block to store the response of your user.
From there, these responses are stored under the name of the block like this.
2. Go to Data panel and click the Add Variable button to create a new variable. Enter a name for it and define the Variable Type.
You can create the similar blocks and follow the above steps to collect Size, Quantity, Delivery Information. This is the result!
3. Drag & drop the Update Variables action right after all blocks to assign these responses to variables, and then enter a name for it.
4. Go to the Properties panel of Update Variables action, set created variables to corresponding value. Once it's done, all previous user's responses will be automatically stored in corresponding variables.
5. Create a confirm block and insert these Variable into the content of block to confirm the order with your customer.
6. That's it, the bot is ready. Here's result after you test!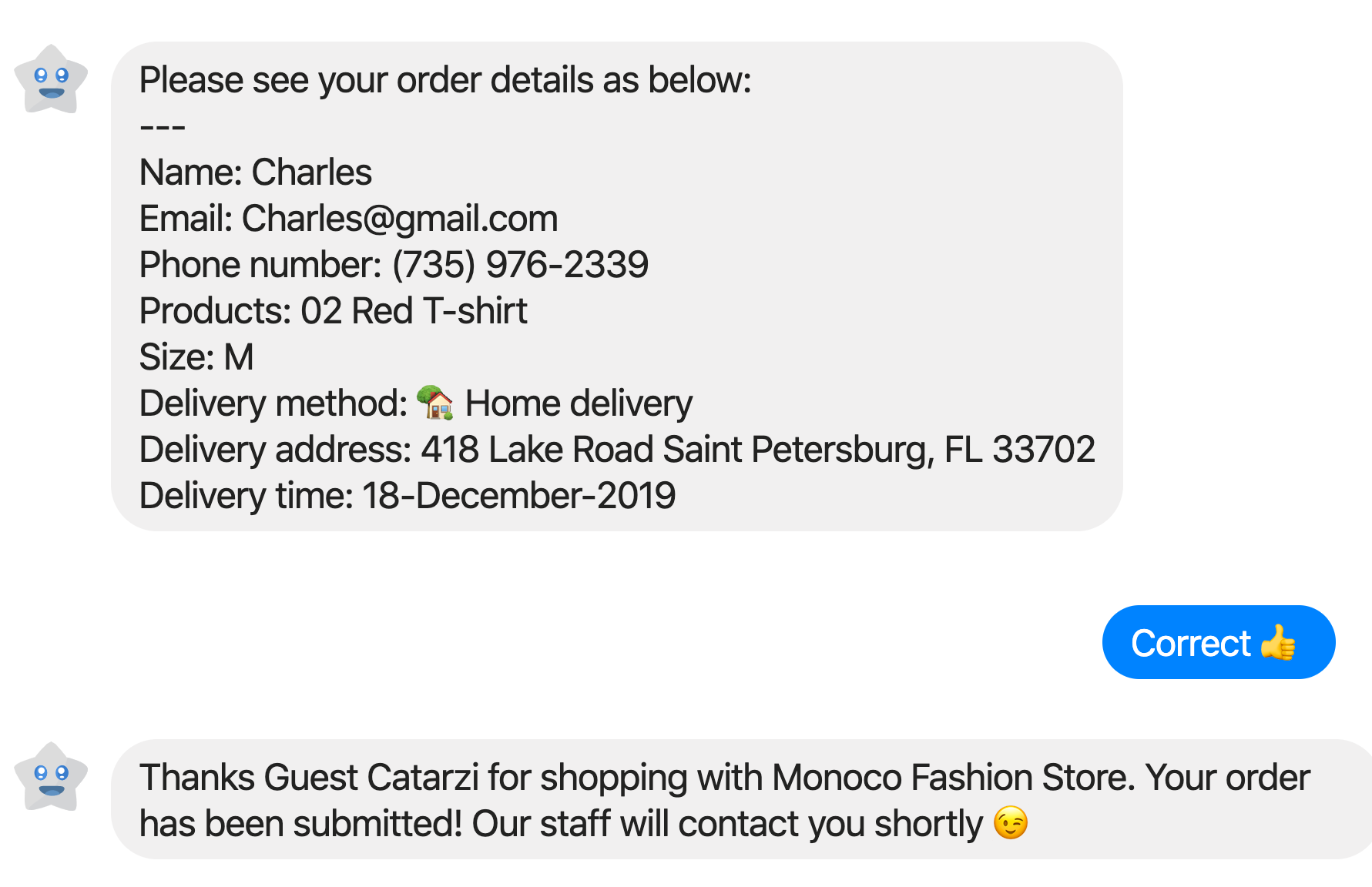 Tip: When naming the variables, their names should be descriptive enough to explain what data is stored under it.
Set up Checkpoint
After using Variables to confirm the order with your customer, you can use Checkpoint to automatically collect & save this order and then notify you of new orders through email. Better still, you can send data to other CRM systems then manage them easily, which you can learn in lesson 6.
1. Go to Bot Builder > Checkpoints, click on Create & Collect Your First Checkpoint button to start creating your first Checkpoint.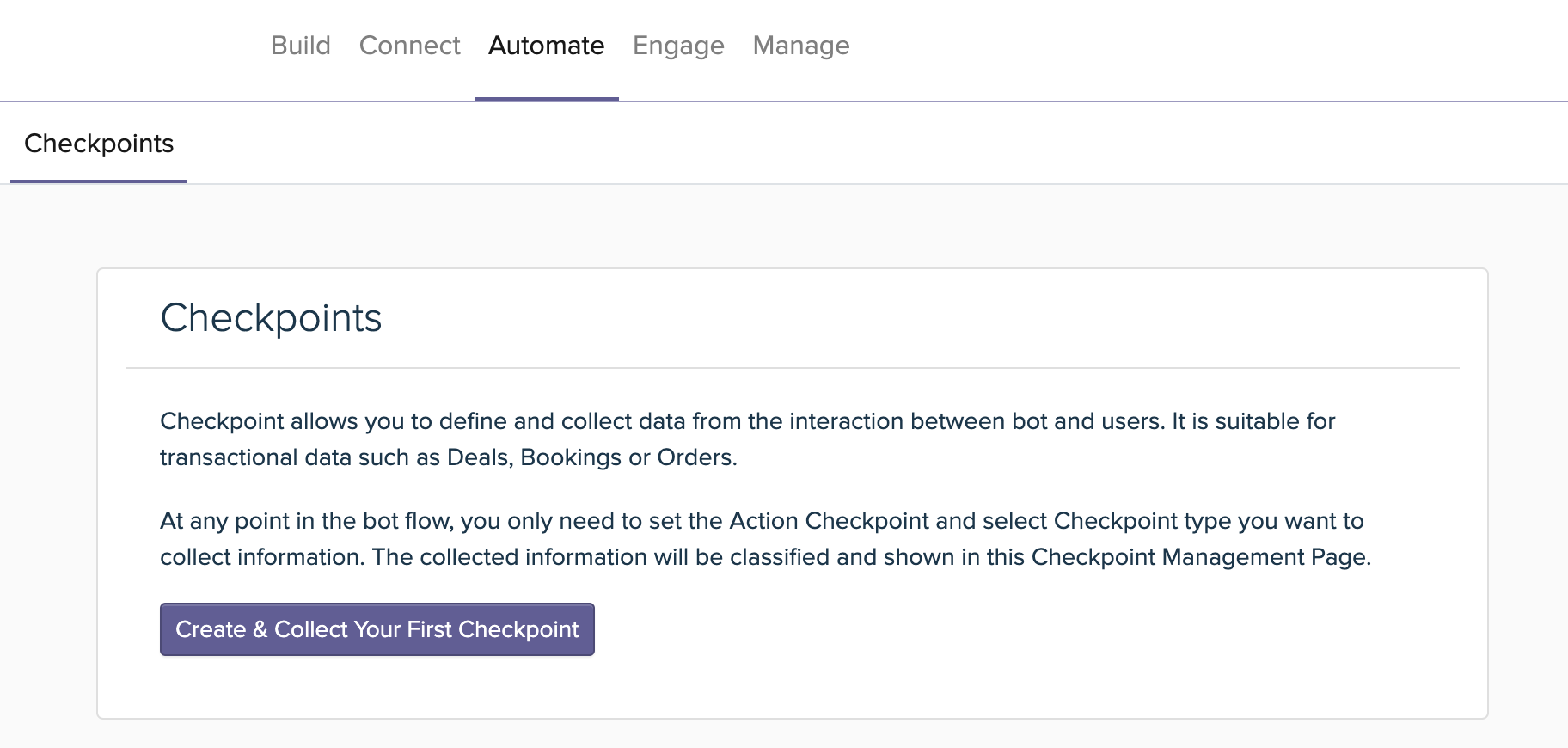 2. Enter a name for your Checkpoint.
3. Click on +Field in the Custom Fields to create Checkpoint fields. Choose the name for each field and select the Data type is Text. The idea is that you will create Checkpoint fields corresponding to Flow Variables and set it as a default value to save the confirmed order.
4. Similarly, do the same to create the remaining Checkpoint fields and here's how your checkpoint looks like:
When you want to make any change inside "Checkpoint Settings", don't forget to click Update button, otherwise, the changes won't take effect.
5. Drag and drop a Save to Checkpoint action next to the Confirmation Block and select the created Checkpoint in the Save to Checkpoint of Properties panel. Then your checkpoint will automatically set to default values.
6. You can also set your bot to send you emails to notify about new orders by dragging an Email to Operator action right after the Checkpoint. Then you add the subject line, email content, add bot owner and collaborators' email addresses into the Action Configuration as bellow:
7. Great work! Let's test it. If your user's responses like as below: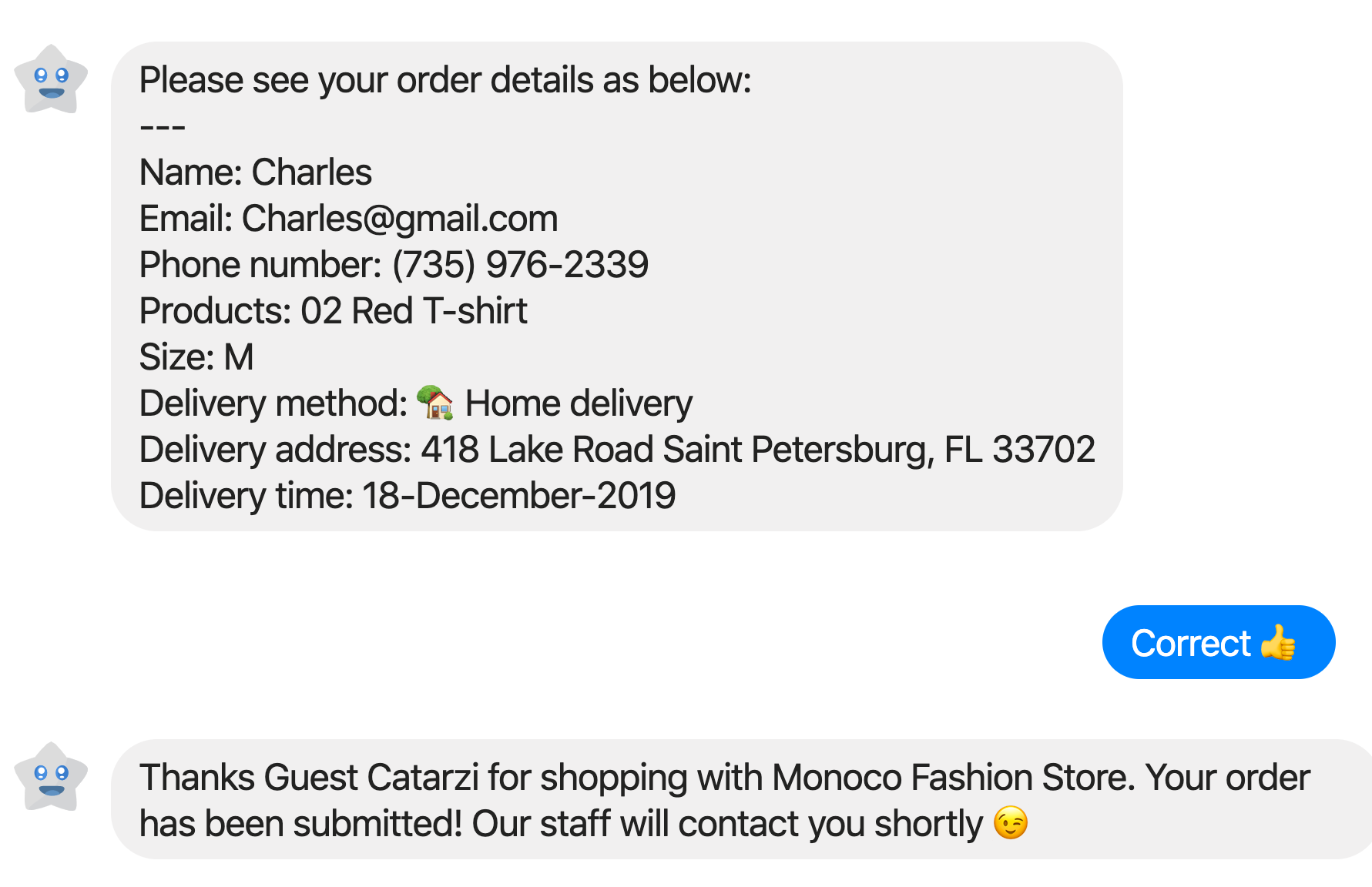 Then you will have the data in Checkpoint like this:
And you will receive the "New Order" notification email as below:
For more information, please visit Checkpoint.
Tip: If you want to track your orders, you can create the Delivery Status field in Checkpoint Setting with Tag data type and update it in the Checkpoint management page.
User Attributes & Tags
In this part, you will learn how to automatically save customer's information like name/gender/email using the Custom Attributes and then categorize customers with Tags.
1. Open Bot Builder > Data > User Attributes, choose Manage User Attributes and create 3 fields are Name, Email and Phone number to collect & save the name, email, phone number of customer.
2. Go to the "Module Customer Information" and drag the Update Variables action after created blocks collecting customer's information.
3. Drag the Update User Attributes action next to the Update Variables action to update User Attributes automatically. In the Properties panel of Update User Attributes action, set created attributes to corresponding value.
4. Drag the Tag action next to the Save User Attribute and add a tag name is Purchased Customer. Now, every time the conversation go through this point, the customer will get tagged with the value you already set.
5. Once the Update User Attributes and Tag action are set, when customers interact with bot, their data will be saved in Audience Details as bellow:
As you can see in the above picture, the System Attributes bot receives from Facebook will show up at the top left column, while the Custom Attributes you create yourself are at the bottom left corner
Note: User's information can be exported into the third-party using Integromat/Zapier. Keep exploring and you will learn how to integrate your bot into Zapier in lesson 6.
Send broadcast
Broadcast is a powerful marketing tool supporting you to send bulk promotional messages or many more to your subscribers via Facebook Messenger. This helps grow your audience and sustain a lively engagement with users. Assuming you want to send a coupon that gives thanks to purchased customers, you can create your broadcast message as bellow:
1. Go to Messages > Broadcast, click on New Broadcast or Broadcast your first message to create your first Broadcast.
2. Compose your messages into the Text Message.
Or select "Existing Block" to send messages to the subscribers using a created block in Flow Editor. By using this option, you can connect your promotion messages to another blocks/modules in bot flow that keeps your chat conversations always going.
3. Choose your Broadcast's content type is promotional. For more details and specific examples of broadcast types, you can find more at Broadcast content type
4. Filter broadcast recipients by "Purchased Customer" Tag or User Attributes. Here is where you can choose to send your broadcast to users who have been tagged in Purchased Customer Tag or also add multiple User Attribute conditions to get focused on your targeting.
5. Choose a notification option and schedule emails to send. If you'd like to send the message right away, just click on the Send Immediately option. To schedule the broadcast send at a different time, tick the Schedule For Later option.
When you're finished with these settings, the last step is to click "Send now" button. Below is an example of how messages are received via your customer's messenger:
After sending a broadcast, you can easily check the time when the message was sent and track the number of users reached, replied, read...in Broadcast List Screen.
For more information, please visit Broadcast
Some useful tips:

To hit higher open rates, your broadcast should start with a short, personal, easy-to-read teaser message along with call-to-action buttons.
Avoid being overly promotional in your broadcasts. It's better to ask questions and give them lots of options to personalize the subscriber's experience.
To check you set your Broadcast up perfectly, we recommend sending the message to yourself before broadcasting it widely.
Integrate with Google Sheet
In this final part, you will learn how to integrate BotStar with Google Sheet. This action will allow you to export as well as import the data that has been collected via Monoco Chatbot.
However, in this lesson, we will only learn how to transfer the customer's data into Google Sheet. This action will automatically move the data about customer orders into Google Sheet whenever a new customer places a new order.
We'll walk you through 3 stages:
Prepare a sheet inside your Google account
Set up Google Sheet Block in the Monoco Shop chatbot flow
Check the result in the Google Sheet
Note: For more information about automatically transfer data from Google Sheet into BotStar, you refer to our Google Sheet document
1. Log into your Google account > Create a spreadsheet named Monoco Shop customer's orders and the worksheet named Order, then you will need to fill in the information you want to save in Google Sheet.
2. Head to Bot Builder > Integrations > Turn on Google Sheet > Connect your Google account
3. Return to Module Shopping of Monoco Shop chatbot flow, and then drag and drop Google Sheets Update block into the flow after the Save Order Checkpoint block.
4. Set up the Google Sheet Update block as the below picture.
5. Test the flow.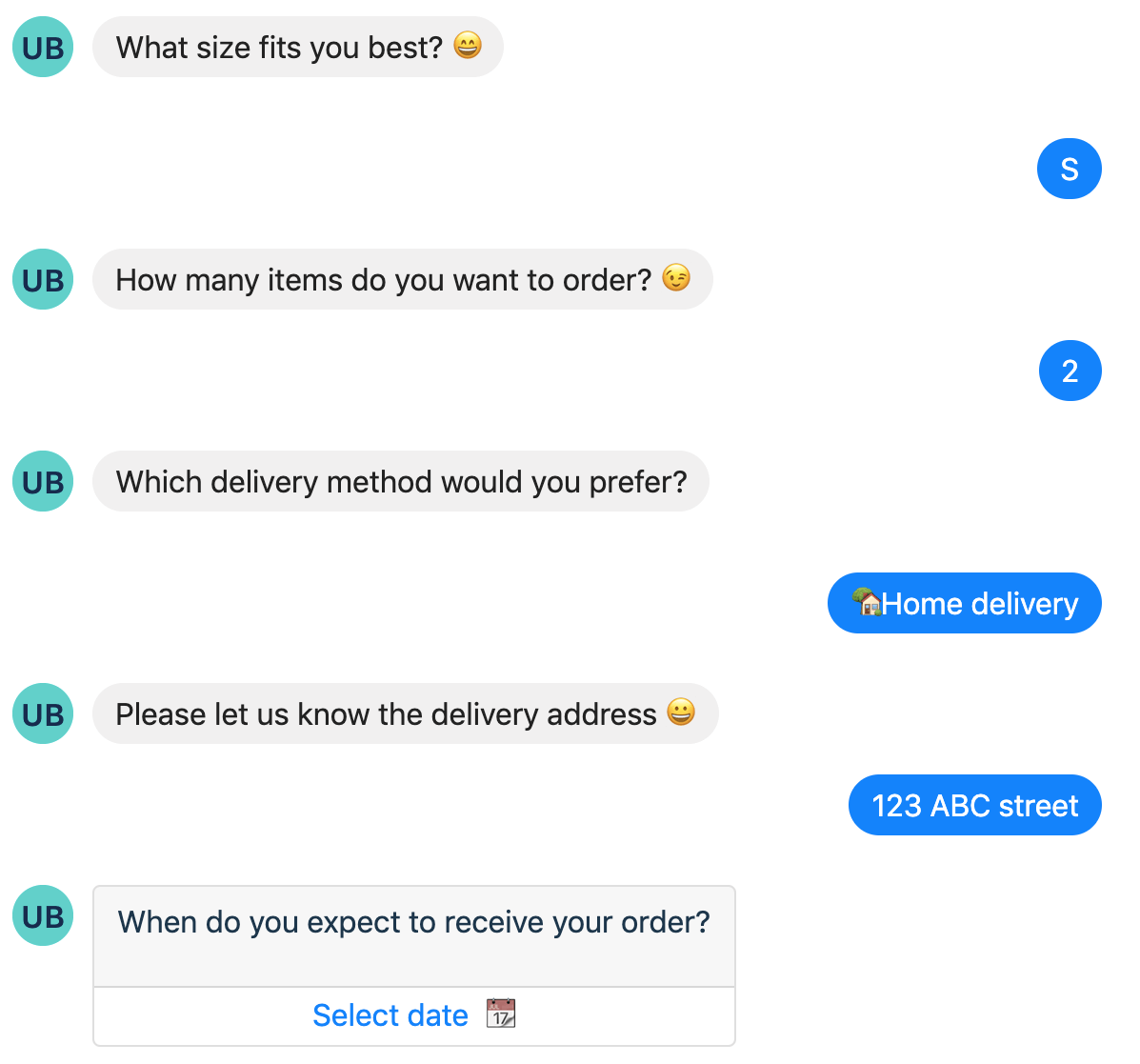 6. Go to the Monoco Shop customer's orders spreadsheet to view the result. Here is what we will see:
Success! 🎉 After 4 lessons, you've already built a basic chatbot for the Fashion shop. In the next lesson, you will learn how to soften your chatbot. So don't miss the next lesson!
If you have any concerns, please feel free to leave a comment below or contact us through support@botstar.com. For more details on how we have helped our customers grow their business, you can view our use cases, blogs or join our BotStar community to learn and share new things 😊