Connect Your Chatbot to Facebook Messenger
Publish helps bot operators deploy their bot through Facebook Messenger. Using BotStar's Publish, the bot operator will connect easily between Facebook Page and the designed bot to deploy bot to users.
In this page:
Before publishing your bot, you'll need to:
Create a Facebook Account
Create a Facebook Page (Admin role on Facebook page)
Set up your Facebook Page
Note: You cannot connect more than one Bot platform to single Facebook Page.
Publish your chatbot to Facebook Messenger
The following tutorial shows how to connect a bot to Facebook Messenger:
Please note that bot cannot be deployed on the same Facebook page. In case the bot has been connected to a Facebook page before, then you must Unassign to change from your old bot to the bot you want to connect to that Facebook page.
Customize bot behaviours
BotStar does provide some options to customize the behaviour of your chatbot on Messenger. Please note that Facebook provides very limited ability to change any visual settings for bot on Messenger.
Accessibility
Here bot operator will see Whitelisted Domain. This is a list of third-party domains that are accessible in the Messenger webview. Learn more about Messenger Webview here. You can also publish your chatbot for the whitelisted domains (websites). It's recommended to keep webview.botstar.com as a whitelisted domain for webview components such as calendar, payment to function.
Contact us at info@botstar.com if you are interested in developing webview for your chatbot.
Please note that this is different to the Website Domains if you also publish your bot to website.
Usability
Disable Message Composer field so the only way your user can interact with your bot is via buttons and quick replies, webviews. End users won't be able to type their response. We do not recommend this behaviour unless your chatbot expect any input from users and provide navigations via buttons or quick reply only.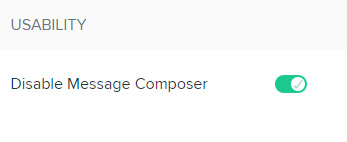 Here is the result after enabling Disable Message Composer
Audience Filtering
Users from any of the whitelist countries will see your bot on discovery surfaces on Messenger platform and otherwise Blacklisted countries users won't be able to see your chatbot.
Set up your Facebook page
If your Facebook page does not have Send Message button, you can follow the instructions below to set it up. Here is the result of the Facebook page after you set up Send Message button with the user:
Facebook Fanpage
To set up a Send Message button, follow these steps:
1. Browse to your Facebook page and click on Add a button.
2. Adjust Add a Button, choose "Contact You > "Send Message" in Step 1.
Next choose Messenger in Step 2.
3. Preview the settings and press Finish button to complete